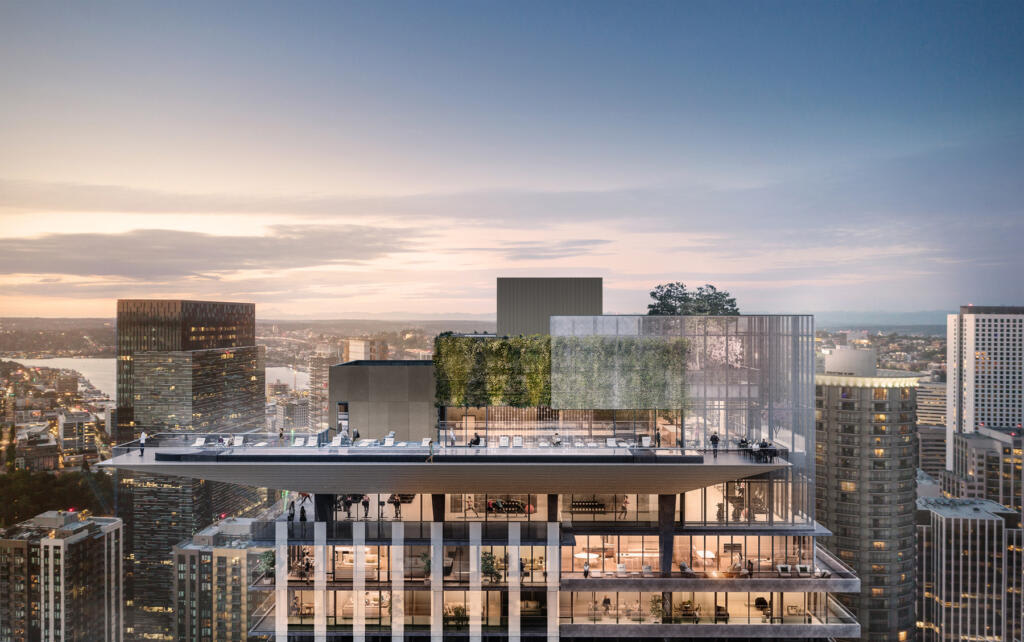 Amidst all the uncertainty with Covid-19, First Light just received their
master-use permit
from the City of Seattle and they plan to move forward with their 48 story luxury condo tower in the
Belltown
neighborhood of Downtown Seattle. This is exciting news for the 300 plus buyers that have reserved units in Seattle's most anticipated high-rise condo development.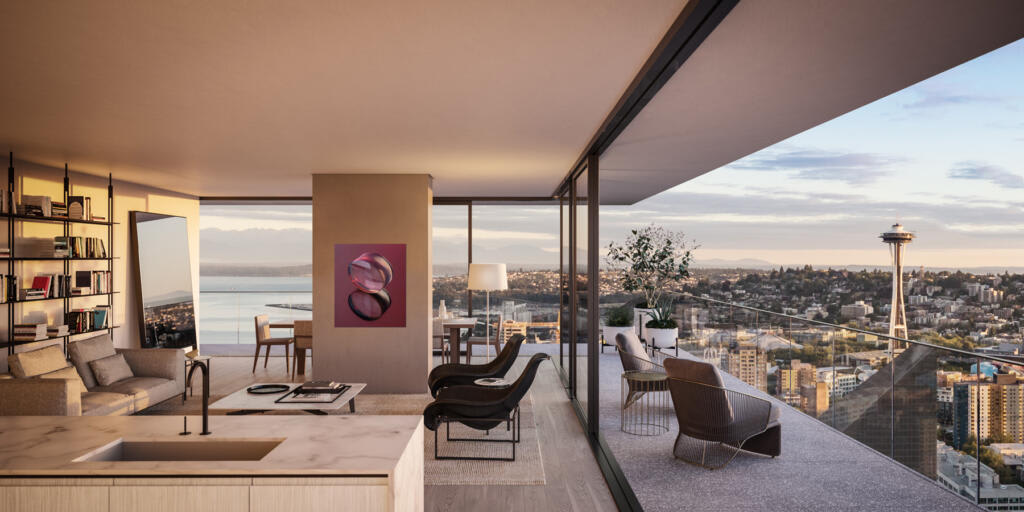 A specific date for groundbreaking has not been announced but it is reasonable to imagine that it will happen soon. Here is a note that the development team shared with me:
We're pleased to announce that the City of Seattle issued the decision in favor to move forward with issuing the master-use permit and we are now waiting on the administration process. We anticipate construction of First Light to begin on site in the next month. Note that timelines may vary pending impacts of COVID-19.
I thought it would be fun to highlight some of their best remaining inventory to share with you guys. I worked with Doug Sonnenberg at First Light to create the list:
803 – $662,888

Least expensive home in all of First Light. The layout is ideal for a studio as the bedroom area of the home is tucked away in an alcove, allowing for separation of bedroom and living area. Well planned efficient design in floor plan. Comes with large balcony. Northeast facing views. 1 of only 3 studios left (3003 and 4103 also available). This type of unit would be the next one to sell – good price.

913 – $753,888

Urban 1 Bedroom in a desirable location in the building. This part of the building has sold quite well as it faces northwest allowing for direct afternoon, evening sunlight. It is also positioned directly above the apple orchard 7th floor rooftop garden, which provides an attractive natural view from above. Comes with floor-to-ceiling frosted glass windows that completely enclose the bedroom from the rest of the home. Efficient layout and design – also comes with large balcony.

2106 – $1,525,888

Every 06 floor plan below the 21st floor has sold. This 2 Bedroom home should sell quickly as it is competitively priced at $1,525,888, adding a lot of value for our larger 2 Bedroom floor plan with very appealing city views. If I were considering a larger 2 Bedroom home for myself, this is the one I would purchase. The floor-to-ceiling glass corner homes with wraparound balconies are going to be some of the most coveted in all of Seattle. The sliding glass doors at the corner of these homes, allow for a free-floating extension of your living room to your wraparound balcony providing a WOW factor for entertaining and livability. The 06 floor plan has been a very popular stack with very few homes remaining.

804 – $929,888

Urban 2 Bedroom home, which is basically a large 1 Bedroom + Den with a 2nd bathroom. Every Urban 2 Bedroom floor plan has sold below the 16th floor with the exception of 804, 1304 and 1305. The sub-$1M price point for this home has made it very popular. I imagine a Murphy bed in the 2nd bedroom allowing for the option of making it a den or a guest room. Again, this one will sell quickly. 4204 recently sold for $1,203,888. The 04 and 05 floor plans have been equally popular on higher floors as the price does not increase that much as you go higher up in the building. The city views out this side of the building are phenomenal!

809 – $1,298,888

809 is our lowest priced 2 Bedroom floor plan. This home faces the desirable southwest direction allowing for direct sunlight and partial water views even from the lower floors. What I love about this floor plan is that it is situated on the corner of the 3rd Ave and Virginia St. intersection, which provides the home a natural buffer with the ability to look all the way down 3rd Avenue and Virginia St. corridors. The buyer of this home is going to enjoy the vibrance and energy of the city while still being perched as high as 8 floors above the ground. Wraparound balcony. Floor-to-ceiling glass corner windows and a most efficient 2 bedroom design.

4301 – $3,679,888

Sub-penthouse. This 3 Bedroom/3 Bathroom home provides a very impressive 270 degree view spanning from the eastern city views, to Lake Union, to the Space Needle, to Queen Anne, and all the way northwest towards the Puget Sound. I can't say enough about this home. It exudes the essence of luxury living. (Feel free to email me if you guys want to view any of these floorplans – [email protected])
To be honest, I'm not surprised that they are moving forward with the project. There will certainly be an economic impact from Covid-19 and a subsequent recession, but before the virus hit, Seattle had one the best domestic economies and a very bright future. I expect the recession to be deep, quick and will bounce back with a pretty immediate recovery. The fiscal stimulus put into place will help back stop the economy from a server long lasting financial impact.
Seattle is built for the future with a very bright and talented workforce. Here are just some of the companies that office in the Emerald City.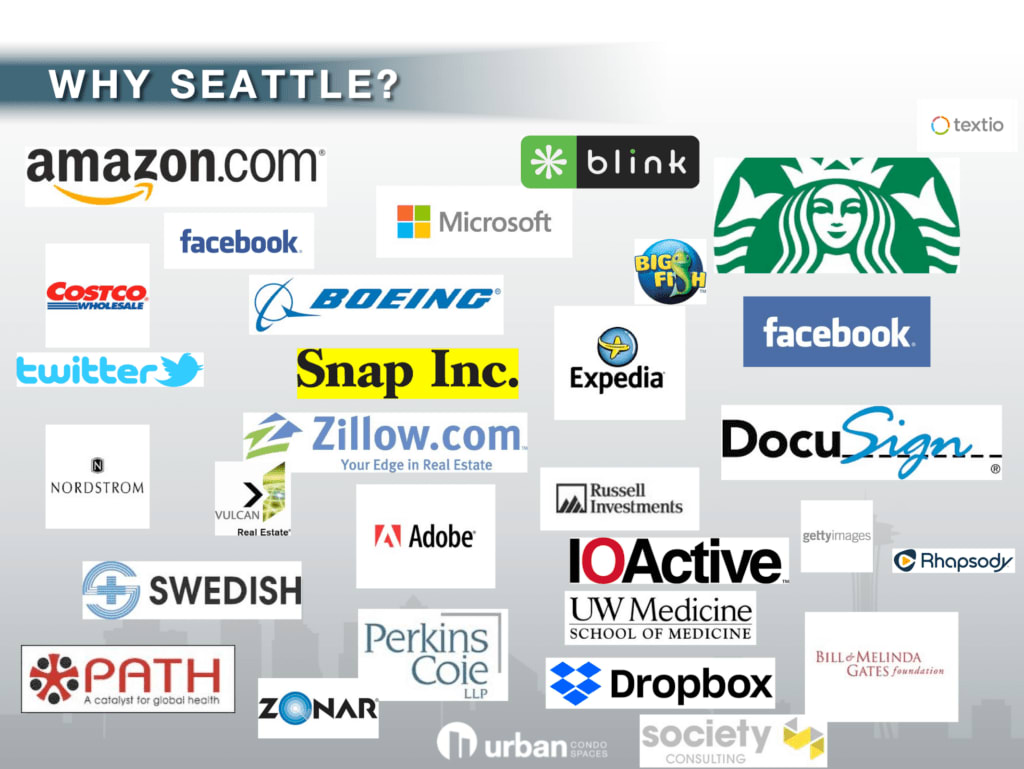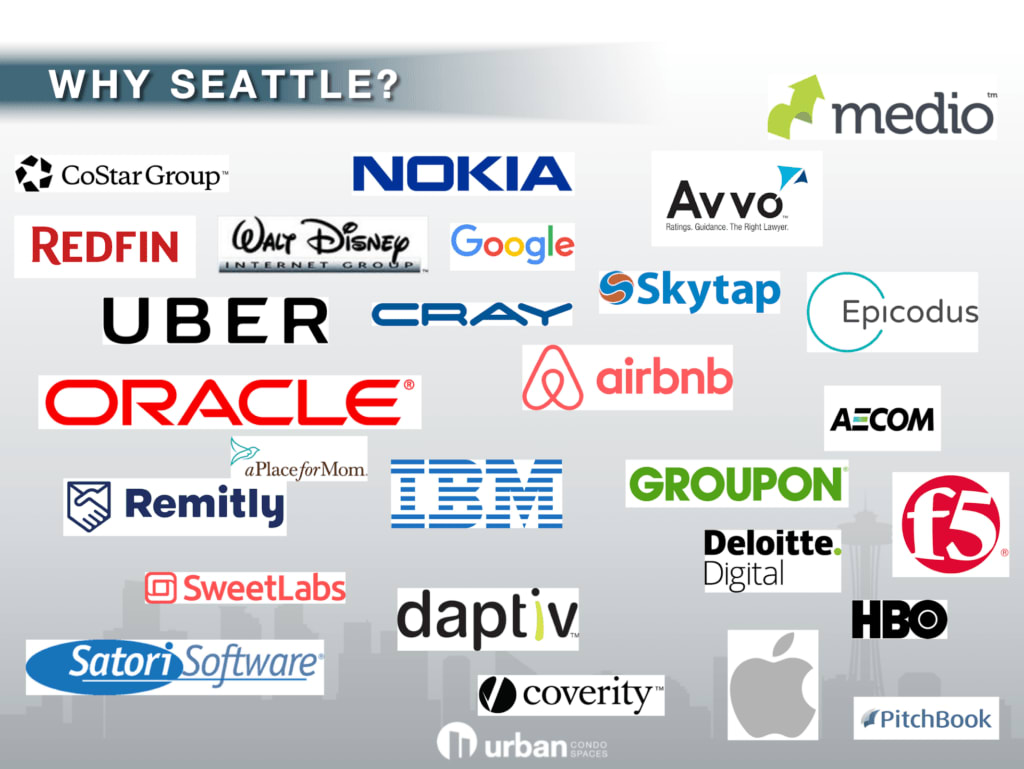 Some of the amenities at First Light include a rooftop deck, a cantilevered pool, business center, fitness, bike storage, co-working space and a grand lobby.
It will be interesting to see how quickly they sell the remaining units. As a developer, you are not necessarily in a hurry at this stage of the development process. You have have time on your side to sell the remaining inventory. Featured in the Puget Sound Business Journal this week, Ian Gillespie, the Founder of Westbank said,
"We are not stopping construction as a result of the virus," he said. "People still need houses, and we are here for the long run."
I'll be sure to keep you all posted with the groundbreaking, construction updates and the anticipated delivery dates.