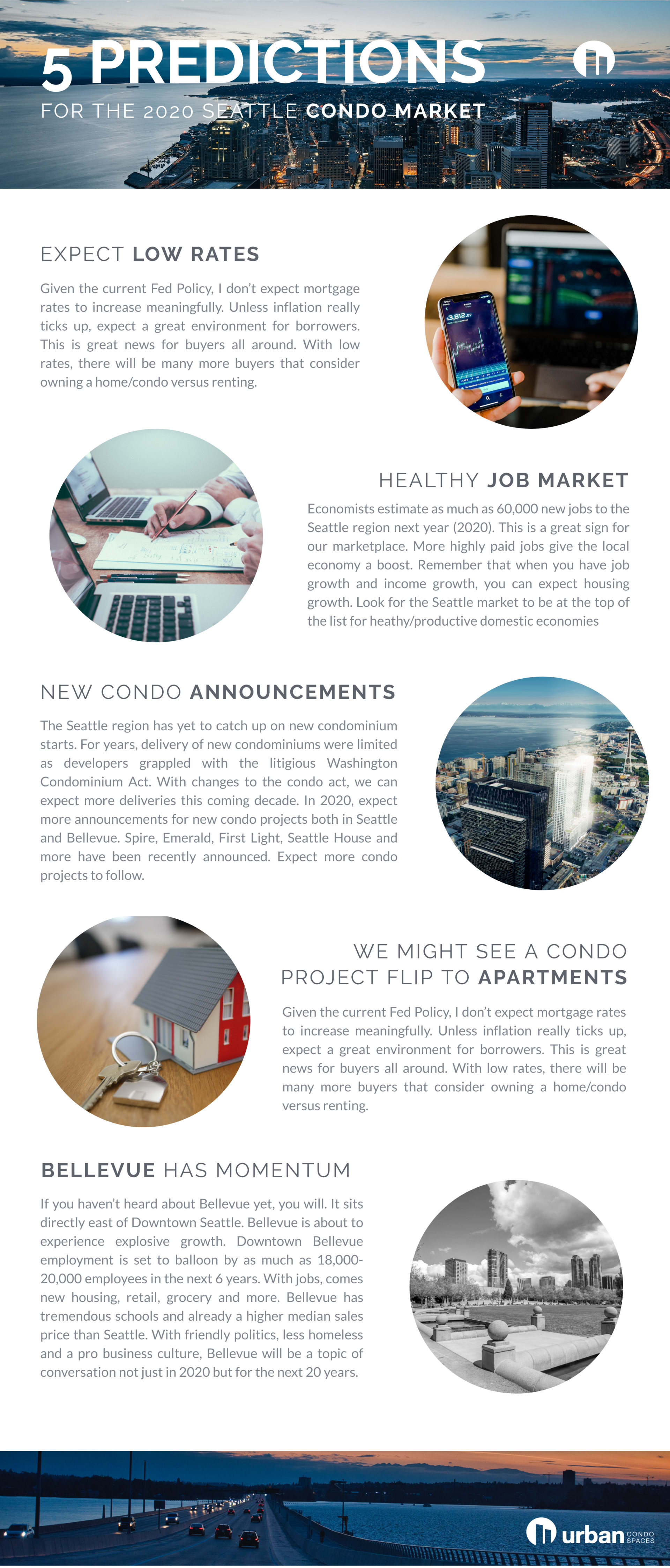 5 Predictions For The 2020 Seattle Condo Market
Expect Low Rates
Given the current Fed Policy, I don't expect mortgage rates to increase meaningfully. Unless inflation really ticks up, expect a great environment for borrowers. This is great news for buyers all around. With low rates, there will be many more buyers that consider owning a home/condo versus renting.
Healthy Job Market
Economists estimate as much as
60,000 new jobs
to the Seattle region next year (2020). This is a great sign for our marketplace. More highly paid jobs give the local economy a boost. Remember that when you have job growth and income growth, you can expect housing growth. Look for the Seattle market to be at the top of the list for heathy/productive domestic economies.
New Condo Announcements
The Seattle region has yet to catch up on new condominium starts. For years, delivery of new condominiums were limited as developers grappled with the litigious Washington Condominium Act. With changes to the condo act, we can expect more deliveries this coming decade. In 2020, expect more announcements for new condo projects both in Seattle and Bellevue.
Spire
,
Emerald
,
First Light
, Seattle House and more have been recently announced. Expect more condo projects to follow.
We Might See A Condo Project Flip To Apartments
In the last decade, new apartment deliveries outpaced condo deliveries. Massive job growth and wage expansion led multi-family developers to build high-rise apartment product. Just recently, a few new condo projects have been announced, balancing the scales for new unit deliveries. However, a few of Seattle's new condo developers made major mistakes. They don't have enough parking and they didn't offer adequate outdoor space (decks). This has hurt sales and I wouldn't be surprised if one of these condo towers flipped to an apartment. There has already been a condo project that started sales and
within months pulled the plug
(Capitol Hill).
Bellevue Has Momentum
If you haven't heard about Bellevue yet, you will. It sits directly east of Downtown Seattle.
Bellevue is about to experience explosive growth
. Downtown Bellevue employment is set to balloon by as much as 18,000-20,000 employees in the next 6 years. With jobs, comes new housing, retail, grocery and more. Bellevue has tremendous schools and already a higher median sales price than Seattle. With friendly politics, less homeless and a pro business culture, Bellevue will be a topic of conversation not just in 2020 but for the next 20 years.