5th and Madison
LEED Certified 5th and Madison Condos: Green Living in the Heart of Seattle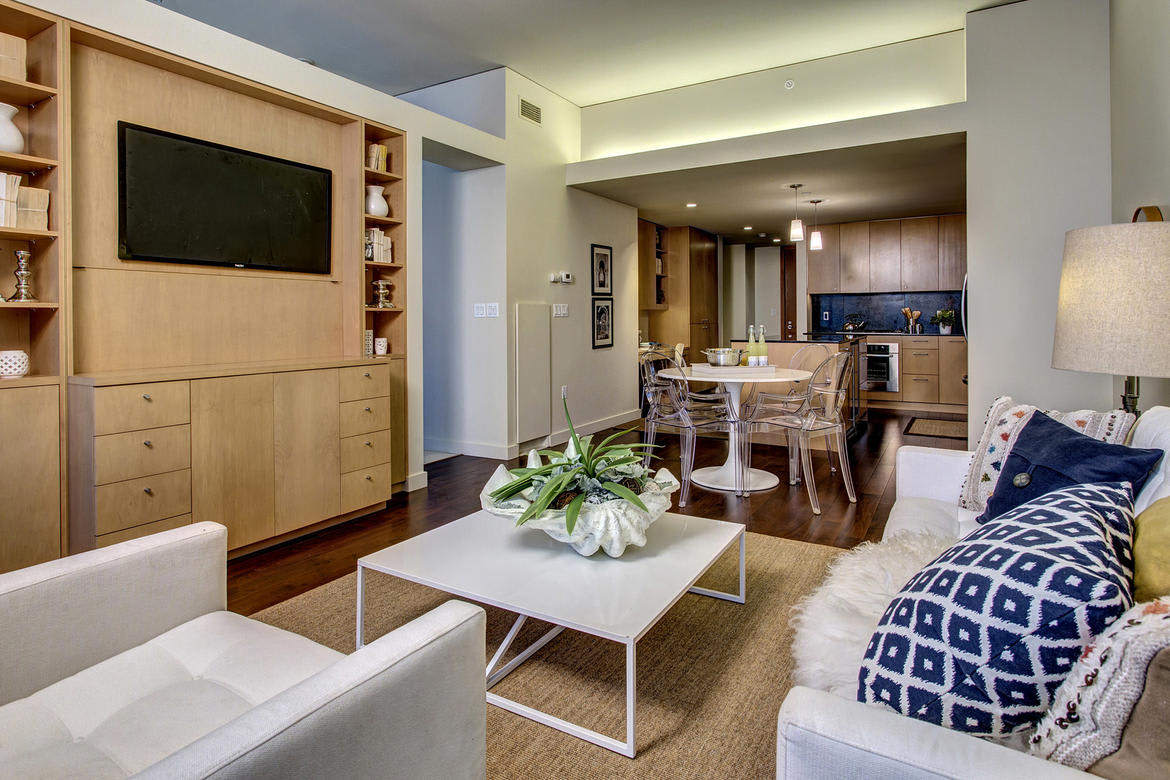 Features


Address: 909 5th Ave, Seattle, WA 98164
Year Built: 2008
Developer: Turner Construction
Architect: Ruffcorn Mott Hinthorne Stine
Units: 126
Neighborhood: Downtown


Description


Title: LEED Certified 5th and Madison Condos: Green Living in the Heart of Seattle


Unearth the epitome of eco-friendly luxury living in Seattle at the
5th and Madison Condominiums
. This
LEED-certified
high-rise, located just a short distance from Seattle's bustling Retail District, is a beacon of sustainable living without compromising on elegance or comfort.
Designed by renowned architects
Ruffcorn Mott Hinthorne Stine
, the luminous tower is lauded as one of America's top 10 green-built buildings. With a distinct dedication to a built-green lifestyle, 5th and Madison transcends the conventional condo living experience.
Each one-bedroom and one-bedroom + den unit, sized between 808 to 1,244 sq ft, offers an exclusive experience. The three lavish penthouses, ranging from 1,957 to 2,164 sq ft, are a league of their own.


The 5th and Madison doesn't just offer residences; it provides an all-inclusive urban living experience. Amenities include a [garden terrace](https://www.5thandmadison.com/amenities/garden-terrace) and lounge, library,
fitness center
, studio, guest rooms, pet exercise area, controlled access parking, and a 24-hour concierge.
Strategically located in Seattle's financial district, the building offers exceptional
walk-ability
and close proximity to major thoroughfares. From shopping and entertainment to everyday necessities, everything is within reach.
Turner Construction
has masterfully converted 5th and Madison into an eco-friendly marvel, marking it as one of the first high-rises to obtain a Gold Standard LEED certification for its outstanding environmental design.
Its transparent exterior, amenity-rich package, spectacular interiors, and commitment to environmentally conscious design make 5th and Madison a compelling option for discerning condo buyers in Seattle. Come explore this green haven – your future home might just be a
click away!
LEED certified, 5th and Madison Condominiums, Ruffcorn Mott Hinthorne Stine, green-built buildings, built-green lifestyle, Seattle's Retail District, urban living experience, Turner Construction, Gold Standard LEED certification, condo buyers in Seattle.