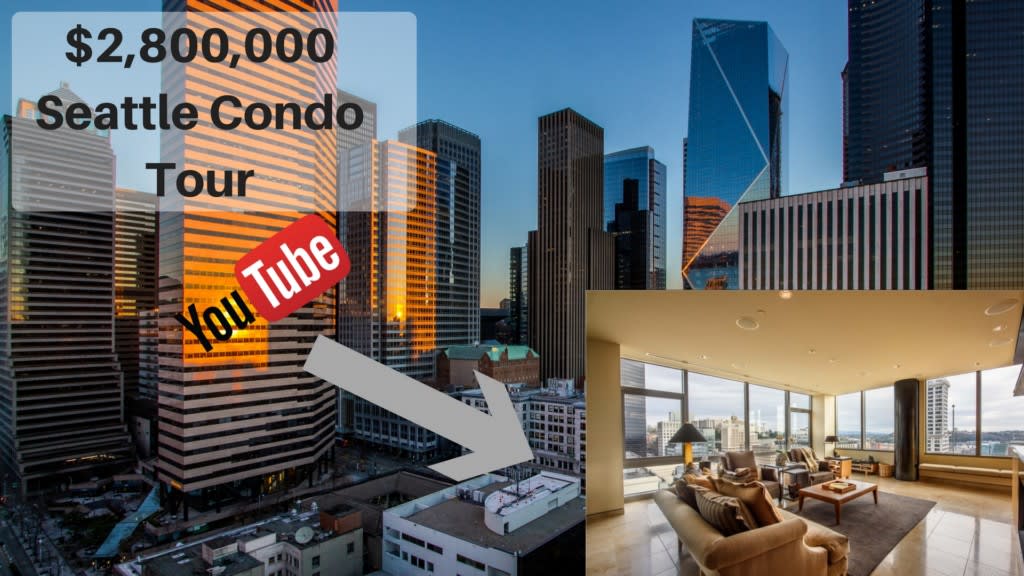 Private Tour Of Millennium Tower, Unit 1904 Listed At $2,800,000 (Video)
We had a private tour of Millennium Tower in Downtown Seattle on Friday – unit 1904, asking $2,800,000.
Our friend and listing agent Rondi Egenes, gave us access to show you guys around. See the video for a room by room tour of this incredible 2,304sf unit in the heart of Downtown Seattle. I thought you guys would enjoy a look at this luxury condo – as it is an original owner from the year the project was built (2000) They finished the buildout of the unit in 2005-2006.
Interiors
The interior finishes are nice. The include honed Petra Del Cardosa Limestone. Limestone floors, beautiful custom cabinetry and a wall of windows. Given that it is a corner unit, you'll see the tremendous views throughout the video. The unit is just over 2,300sf with 2 bedrooms and 1.75 baths.
Exterior
Millennium Tower has a very cool exterior design. It shares the bottom half of the tower with office tenants and from floors 15-20 it is all private residences – this includes the penthouse that sold that year, previously owned by coffee mogul (Howard Schultz). The steel and concrete structure is as luxurious as they come. From the time you step into the lobby, you can see and appreciate why the residences are so exclusive.
We had a great time touring the space. Meeting our friend Rondi and the owner for private tour was a perfect excuse to show you guys around. Millennium Tower will certainly remain a luxury staple of the Downtown Seattle skyline. Unit 1904 is as great example of why so many Seattleites and Americans in general are Downsizing/Rightsizing from massive luxury homes to take in the benefits of Downtown living. Its not just walk-ability but access to the hospital services, grocery stores, museums, art studios and proximity to major freeways and airports.