We have a new president of the United States of America –
Joe Biden
. I don't know about you guys but it feels good to turn on the page on this election season. I want to get back to work, back to travel and back to time when despite our differences, we could respect each-other and the differences we have as Americans. Moving on – I have an update for you.
Seattle Condo Update, Stats and More
Back in April of 2020, I decided that I should share more detailed stats to monitor the impact of the Covid epidemic. I knew then it would alter not just the condo market but the real estate market as a whole. In fact, you guys might remember the debate we were having just 6 months ago. We
knew people would be leaving the city
because of the virus – the debate we were having
was if those same people would return to the city
. Watch that video here:
Seattle Inventory Charts
When I started tracking the inventory
in late April, the number of condos in Downtown Seattle was just 154 units. As you can see in the chart below, that quickly climbed to 355 units in late September.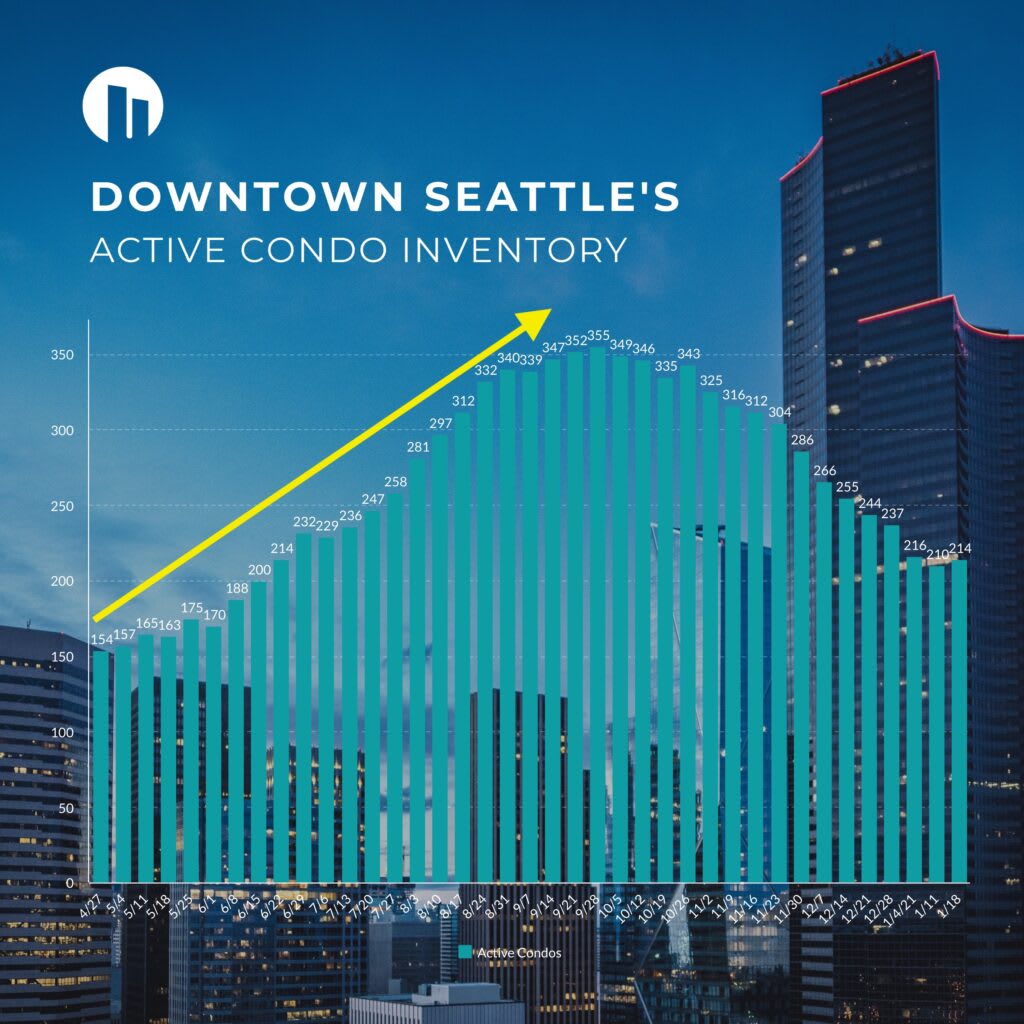 Since the pandemic peak in September, inventory has quickly come back down. As I mentioned in the video, on Thursday (1/21/2021), the number of available condos were 210 units. That reflects a 40% decline from the highs. Now, some of those condos were pulled off the market because of slow activity but in the last 3 weeks absorption downtown has been off the charts.
What Does This All Mean?
Ok, so why the stats? Well, it is the most effective way to monitor the market. If you can understand supply, demand and absorption, you can make better decisions about how and when to sell your condo. As I mentioned in the video, when inventory climbs, buyers have more options, longer market times and can be more selective in their purchase decisions. When inventory falls, the sellers control the market. They have shorter days on market, less competition to deal with and they increase their odds or selling. Here are the examples of weekly stats that we provide. I hope you enjoy them!