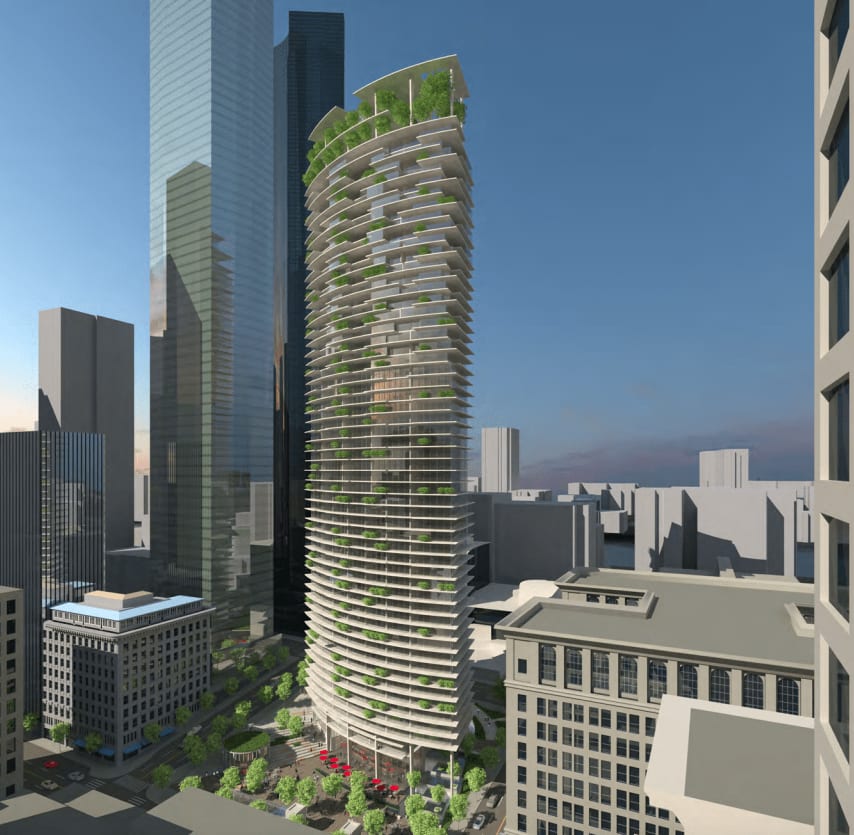 New Seattle Condo Project Revealed, 3rd and Cherry
Bosa Development
has released new images of their 61 story condo tower planned for 3rd and Cherry – they have a design review set for November 7th. If that name sounds familiar, Bosa developed
Insignia Towers
in the
Denny Triangle
neighborhood. They are also building
One88 in Bellevue
. Their new development site, located between the Downtown Core and Pioneer Square is owned by the City and was formally known as the Civic Square Project. It was previously in the hands of Triad Development and just recently, the development rights were sold to Bosa.
The architect is British Columbia-based
James K.M. Cheng Architects
. There is a lot of excitement around the long-awaited Civic Square Development. The plan at this point is to build a full block development that will complement City Hall. The Tower, will be approximately 520 units and will feature 640 parking stalls.
The 61 story tower will feature a 2 level public plaza, restaurants, and top-floor amenity space. The design is a beautifully curved facade with sustainable elements. I like the fact that it will breathe some more life into an area of the city that has very few condo options. I also like the location of the freeway and express lanes.
This could be a perfect project for those looking for better access to
Pioneer Square
, The Ferry System, access freeways, and those that appreciate Bosa's thoughtfully designed amenity space and interiors. Bosa has a great reputation and is a perfect fit to take on a project like this. His projects are amenity-rich, feature excellent interiors and he has an excellent architect that will design a beautiful exterior for this much-anticipated project. Construction is expected to start in 2018.