I recently attended the grand opening for
Avenue Condos
in Bellevue. This project, located at
NE 8th Street and Bellevue Wa
y, will forever change the way we look at the Seattle condo scene. The massive 3 acre mix-use development will feature 332 condos, a luxurious hotel, a 3 star Michelin restaurant, bespoke retail and will complete the most popular intersection in all of Downtown Bellevue.
The Developer Andy Lakha (shown above) is trying to develop a property that will leave an immediate impression on the Seattle real estate market. The sales center which is set open in early March/2019 was constructed on the 22nd floor of the Lincoln Tower 2 office building in Downtown Bellevue. The model unit, built to scale, is rumored to have cost $4-5M. A small expense when considering the sheer size of the newly announced project.
Lakha of Fortress Development in Bellevue has hand-picked a collection of very impressive vendors to build out his development team.
Blaine Weber
of Weber Thompson will be the lead architect,
PFS Studio
will create the landscaping design,
3 star Michelin Chef Joshua Skenes
will launch the flagship restaurant, Hirsch Bedner Associates are designing the interiors and PCL will be the builder.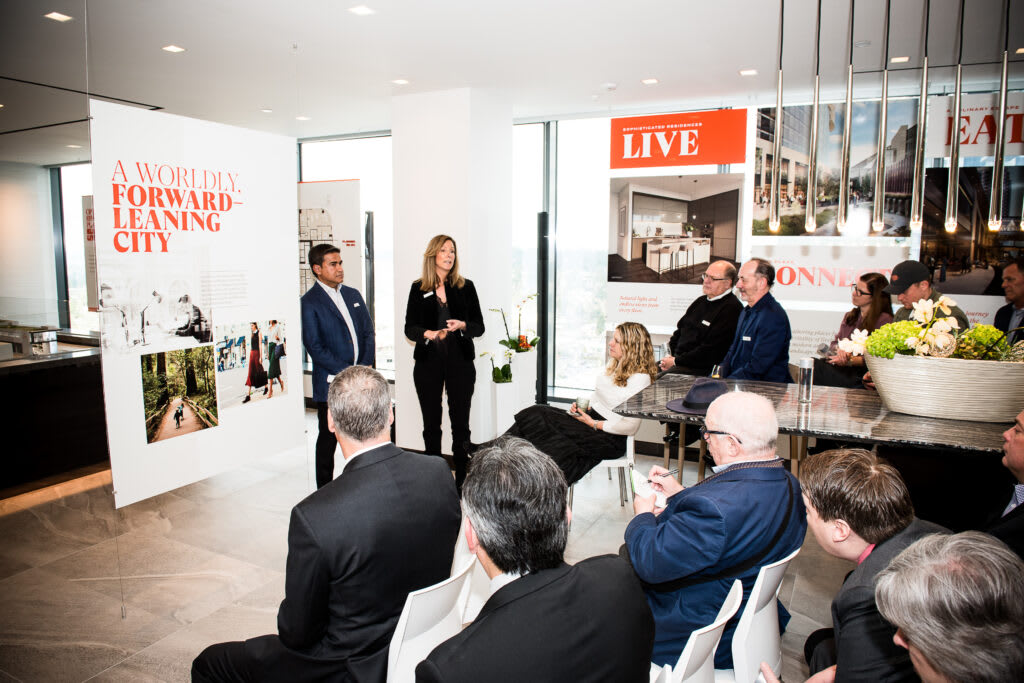 The condominiums will sell in two stages. The first offering is 98 estate homes that will live above the highly anticipated Intercontinental Hotel Bellevue. The second phase in what is considered the West elevation and will be sold at a later date.
The 98 estate homes will feature 1 bedroom, 2 bedroom, 3 bedroom and penthouse offerings. The anticipated price per foot for the estate homes is 1,800psf blended. This pricing will set records and certainly has not been attempted in Seattle before. In fact, the only two projects that have reached the $1,300 – $1,400psf mark were Four Seasons and Residences in Seattle and Bosa Developments One88 Project in Bellevue. As you'll see in the video I created, I touched on why this new condo project will command such a high price.
In part, it is the finishes:

As I mentioned at the beginning of the post, this new project is truly going to raise the bar in Seattle area condo sales. The model itself is so impressive and it really has created a sense of anticipation for the project. In talking to the sales team, there were already a handful of luxury buyers that have committed to purchasing a new home at Avenue. Lakha the developer will own a penthouse at the project featuring over 4,000sf of living space.
Take a few minutes to watch the video and scroll through the photos below. If you have any questions, get in touch. I have copies of all of the floorplans and can assist you in picking out a unit that meets your needs.