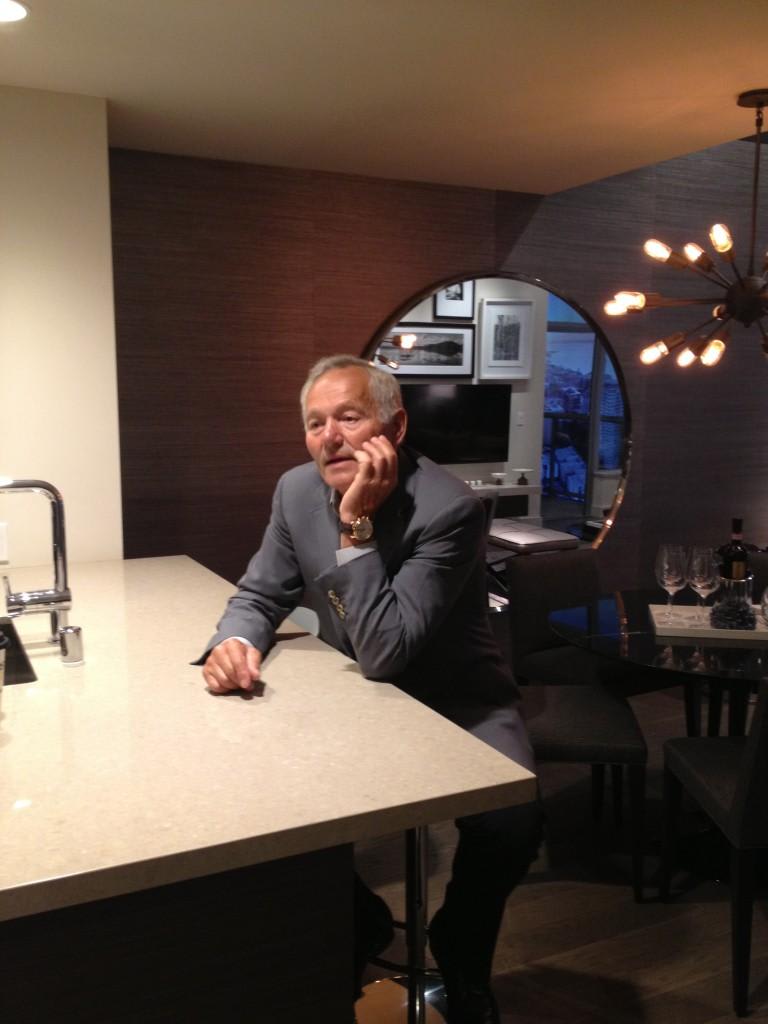 Last Tuesday, I attended a very intimate Q & A with Nat Bosa – Insignia Tower's developer. There were just 4-5 members of the press including the DJC, Curbed Seattle, Matt Goyer (friend of ours) and us.

The Q & A was situated in the sales center model unit. The discussion really centered around the quality of the 2 story project. Bosa, who turns 69 on Christmas, gave us an in-depth look into the vision of his building. He spoke intentionally about why he chose to build the project and explained at the length the upside to Seattle and why he believes it will be the next San Francisco. When asked about the reasons behind developing this particular property, Bosa says, "Amazon and other high tech companies deserve a lot of credit. At the end of the day its jobs, good paying jobs".

Bosa believes that "Seattle is in for an incredible ride". You could really get a sense for his excitement and passion for the project. I thought his energy for the project was infectious. I couldn't help but admire his consistent message that he "only has his reputation". He spoke about how important it was to deliver a high quality project to Seattle. Bosa's track record includes over "25,000 units".

Bosa also told us that they have already committed to the 2nd tower. In total the project will include 707 units between the 41 story towers. The units will range in size from 737 square feet to 2,311. He said that prices will start from the low $400,000's and will go up to about 2 million. The first tower will feature a lounge, TV room and "pet retreat" on the 41st floor. While the second tower will include a indoor lap pool, hot tub, steam room and sauna.

At one point, I mentioned the incredible success of Tesla and asked if they will accommodate electric stations in their garage. We were told it would include at least 30 spaces with room for expansion. Bosa was candid, wildly optimistic and excited to share all his visions for the 2 tower project.

​​​​​​​Unit went up for sale on Saturday September 21st – The project delivers its first units in May of 2015. The second tower will deliver homes in the fall/winter of 2015.
MY OPINION

I think Insignia Towers will change the way people look at Seattle condos. I LOVE the location of the towers, believe in the future of the neighborhood and truly feel that this project will be the most popular condo in the city. My plans are to purchase a unit in the second tower (as long as my wife agrees!). I think the design of the units (featured in the model below) are very much on trend and feature a high quality offerings for what appears to be a market price. I like Bosa's past developments and feel that he has a good reputation. It is such a breath of fresh air to have a project that includes upgrades, is applying for LEED certification, has thoughtful amenities and delivers a project during a time of mass building envelope litigation. With Amazon's massive 3 tower project and the incredible growth of South Lake Union, it is tough to imagine this project not being massively successful. I believe in it.

​​​​​​​I'm happy to answer any questions that you may have – contact us.