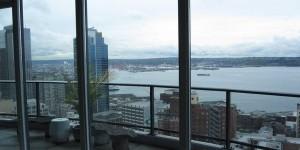 For you any of you that have not seen
Escala
yet; do it! I highly recommend it. In my years of doing real estate it is one of the most interesting projects I've seen. From the grand lobby, the million dollar views and the all white penthouse 30 floors above the city, Escala at a minimum offers visions of grandeur.
While at the brokers open event on Thursday, I tried to summarize my experience on
Twitter.com
. "Escala is the Upper Eastside of NY, with remarkable views, spacious layouts & luxurious amenities. It might not fit Seattle yet, but time will tell." That 140 character summary was the best I could do with trying to capture the essence of a project that cost over $370 million to build. Trust me, it is not easy.
Everything aspect of the project was designed during some of the most successful years of our local real estate economy. That reveals itself as you experience the luxurious and excessive aspects of the 31 story project. You have thousand dollar furniture in the lobby a grand marble staircase, a magical chandelier and a second floor full of amenities that look like they could belong in some of the best resorts around the country. Amenities come at a cost. Since converting the amenity and club space to a "pay per play" system, they were able to reduce homeowners dues to $.53 per foot (originally $.80).
The next stages of our tour (on Thursday) was a guided walk-through of the modeled units as we headed up higher and higher and experienced the incredible views. Each condo was modeled differently and I often looked right past it as I was trying to get a feel for the units "finish level" and view corridor. If you have been reading this blog or any other condo blog in town you would have see a barrage of posts that had scolded the Escala for their asinine pricing strategy. I felt that since they have publicly announced the price reductions that I should look at the units with care and consideration. With that being said, let it be known that I was really impressed. I constantly challenge my assessments of each unit so that I could report back un-baisley.
I will leave you with four considerations:
1. Take a look at the Escala Home pricing below
2. Enjoy the pictures that I took while touring the project (
see here
)
3. Give me a few days and I will have all the video I shot at Escala uploaded to my
Youtube.com
channel
.
4. Take a look for yourself this weekend. If you like real estate in general is a fascinating experience.
—
Escala Home Pricing:
A Plan, 1 bed/1.5 bath
Total Living SF 1,054
Floors 3-19 with North or South Views

Priced at $384,000-$554,000
B Plan, 1 bed/1.5 bath
Total Living SF 1,110

Floors 3-19 with East or West Views
Priced at $384,000-$554,000
C Plan, 2 bed/2 bath
Total Living SF 1,780

Floors 3-24 with NE, NW, SE, & SW views
Priced at $699,000-$1,124,000
D Plan, 2 bed + den/2 bath

Total Living SF 2,182Floors 20-24 with North or South Views
Priced at $1,250,000-$1,450,000
E Plan, 2 bed + den/2 bath

Total Living SF 2,226
Floors 20-29 with West of East Views
Priced at $1,090,000-$1,625,000
F Plan, 3 bed/2.5 bath
Total Living SF 3,073
Floors 25-29 with NE, NW, SE & SW views
Priced from $1,600,000-$2,250,000