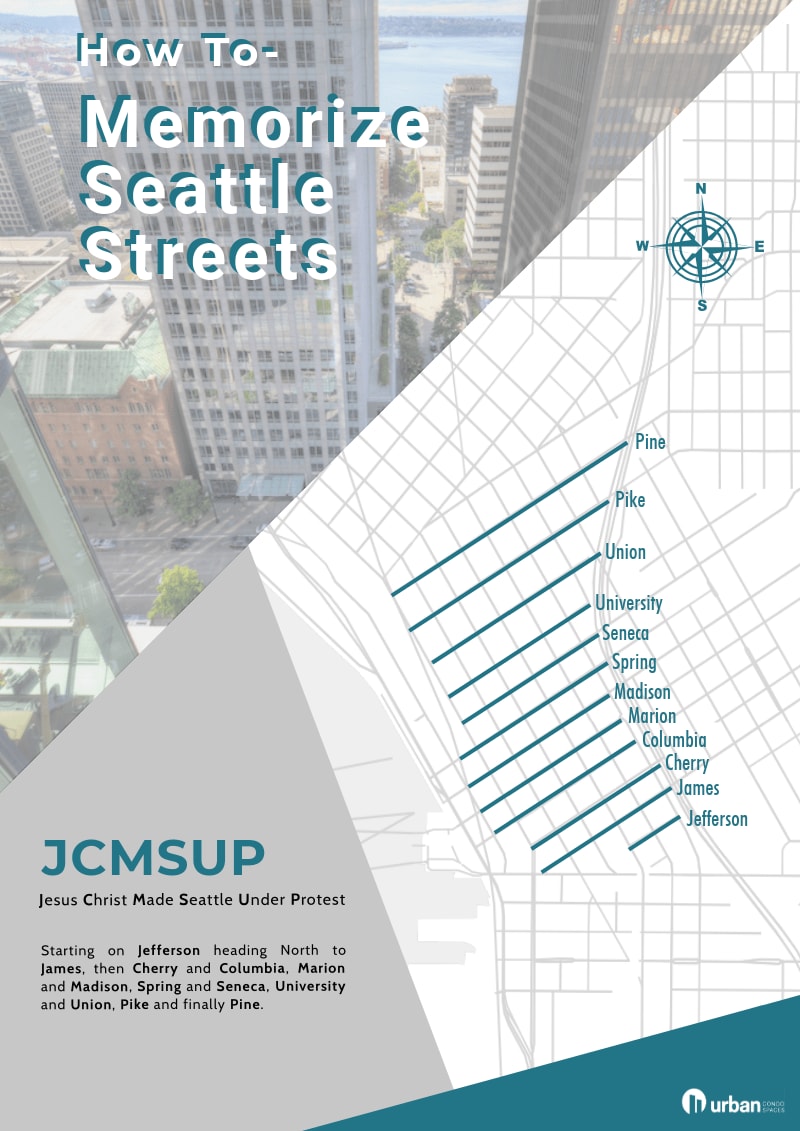 How to Memorize Seattle Streets, JCMSUP
Did you guys know that there is a simple acronym to memorize Downtown Seattle streets?
Maybe you have heard it before? JCMSUP
Jesus (Jefferson, James)
Christ (Cherry, Columbia)
Made (Marion, Madison)
Seattle (Spring, Seneca)
Under (University, Union)
Protest (Pike, Pine)
JCMSUP – Jesus Christ Made Seattle Under Protest
I thought it would be fun to put tougher a infographic that you can save or print. In addition, I created a video explaining how to memorize the often challenging Downtown Seattle grid. See the video below and let me know what you think!
Don't forget about some of the other
guides
,
lists
,
infographics
and
maps
we have created that you can use as well (all of them are FREE).
Some of you guys (and often my competitors) ask why I provide all of these things, make videos and write as many posts as I do. This is my honest answer:
I feel grateful for what I do every day. I love Seattle and I love the people I'm blessed to work with throughout the year. I believe the world is abundant. When you give (un-conditionally) you are often rewarded in un-imaginal ways. I provide the things I do because I love giving back. My goal, as a real estate expert in Seattle, is to share what I have learned and to give the people I work with all the information I have so that they can make great decisions for themselves and their families. My success and the reward to working with so many amazing clients is just icing on the cake. Thanks for reading.