I wanted to share a few quick thoughts on the passing of the Final Tax Bill and how it will impact Seattle housing. I'm working with a couple of our favorite CPA's to create a more formal review, but for now, enjoy and feel free to comment with your thoughts.
State and Local Property Tax Deductions
You may have heard that the plan will cap state and local property tax deductions at $10,000. This is true. Ultimately, this will have an impact on many Seattle homeowners as our home prices continues to rise. See the data below. As values rise, so do property taxes:

Fastest-rising home prices compared with a year ago (October c/o Seattle Times)
1. Seattle +13.2%
2. Las Vegas +8.6%
3. San Diego +7.8%
4. Detroit +7.2%
4. Denver +7.2%
4. Portland +7.2%
Source: Case-Shiller home-price index
For a very rough estimate, you can assume that your property taxes will be about .08-1% of the value of your home. Take this Seattle condo as an example. It is in the 1521 Second Ave building near
Pike Place Market
– the asking price is $2,300,000 but the taxable value is 1,953,000. The $15,267 annual property taxes is 0.8% of the taxable value on the condo. These property owners will only be able to deduct up to $10,000 of their $15,267 in property taxes.
Mortgage Interest Rate Deduction
The mortgage interest rate deduction which will now be capped at $750,000 — is down from $1,000,000. This is also going to hit Seattle/Bellevue hard. Consider the median home price in both markets. As of October 31st of this year, the median sale price in Seattle was $725,000 and $855,000 in Bellevue. Just to be clear, this is the definition of Median Sale Price:
The median sale price represents the figure at which half of the properties in the area sell at a higher price and other half at a lower price
So with that in mind, think of the change to the Mortgage Interest Rate Deduction – it will severely impact close to 40% +/- of the Seattle and Bellevue markets. There were 3,155 sales this year over $800,000 in Seattle. In Bellevue, there were 1,179.
What Experts Are Saying
I want to cite the Chief Economist at Windermere Matthew Gardner….He touched on some other impacts the new plan will have and what his thoughts are on where we go from here:
"The final tax bill also eliminates the deduction for interest on home equity loans which is currently allowed on loans up to $100,000. This is significant because it will largely affect the growing number of homeowners who are choosing to remodel their home rather than try to find a new home in supply-starved markets like Seattle.

"While these measures will likely have a dampening effect on housing, I do not believe they will lead to a substantial drop in home values. However, there is a concern that it will lead to fewer home sales, as households choose to stay put so they can continue to take advantage of the current mortgage interest deduction. The result could be fewer listings, which could actually cause home prices to rise at above-average rates for a longer period of time." — Windermere Real Estate Chief Economist Matthew Gardner *
San Francisco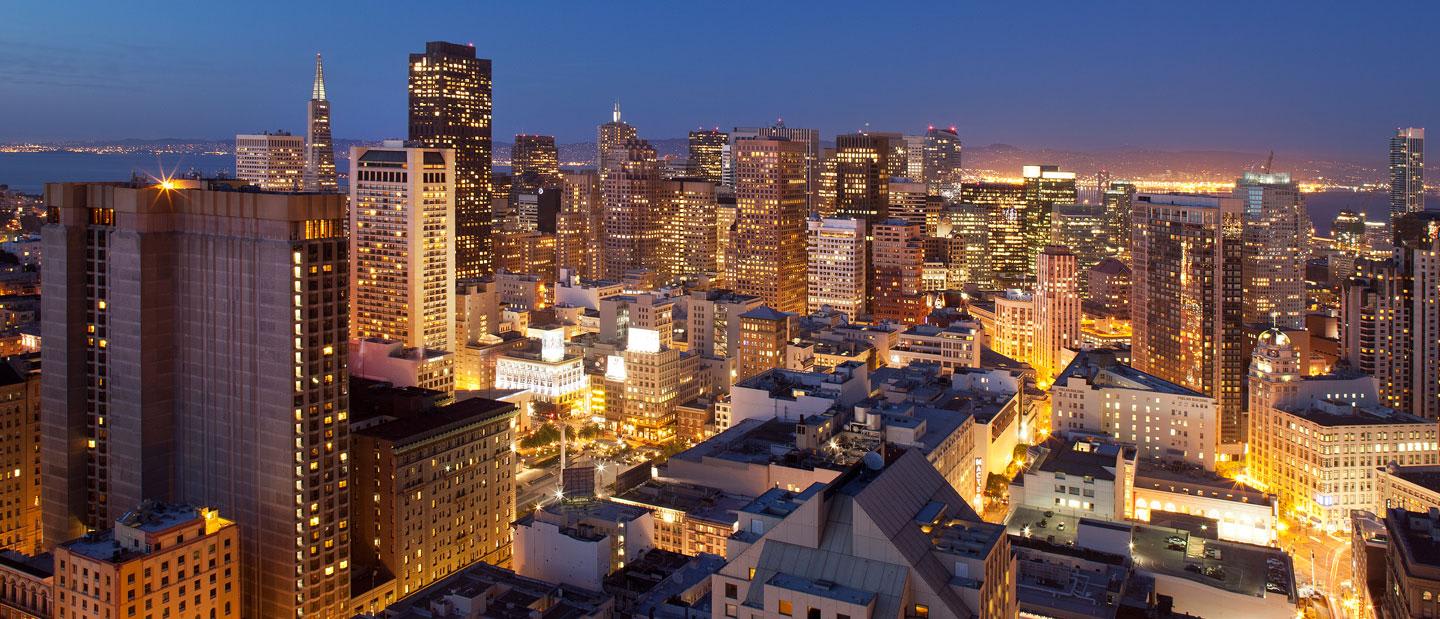 Downtown Seattle

Final Thoughts
I think Seattle is primed to both benefit and suffer from this new tax plan. We have seen unprecedented growth over the last decade. This growth has come from a steady economy, rising home values, an abundance of talented workers moving to our city and the fact that we provide a perfect climate for innovation.
We will benefit because highly taxed States like New York, New Hampshire and California will see a number of residents leave their State or choose a city like Seattle that doesn't have a state income tax. There are thousands of California residents that are taking jobs in Seattle for this exact reason. Given that our home values are still "on sale" compared to the Bay Area, I believe you will see big companies (like Apple, Google, Facebook, etc…..) continue to expand their footprint in the Seattle area. That means more highly educated and highly paid employees moving to Seattle to take advantage of the "lessor or 2 evils". They can be competitive in Seattle, make similar income, but pay less for their homes and save an enormous amount of money on state income tax. Some of these relocation employees will see the value in putting their down payment towards a Seattle home or condo that will ultimately put their mortgage value below $750,000 dollars per the new tax plan. If they stay in their highly competitive and unaffordable cities they may lose out on home price appreciation and the taxable savings that they could benefit from in Seattle.
For this exact reason, Seattle will also suffer. Inventory is at historic lows. This new tax plan could incentivize sellers to stay in their homes. Why? There are not enough homes to purchase that would qualify for the less that $10,000 in property tax provision. Nor are there enough that would fall below the $750,000 mortgage rate interest provision of the new tax plan. Meanwhile, the Seattle area is seeing close to 1,000 people move here each and every day and it appears that there is no end in sight (at least temporarily). I think our housing issues will continue to get worse. We are simply not adding enough inventory – while at the same time welcoming more and more residents to our beautifully complicated yet incredible City of Seattle.
Here are just a few of the companies that currently reside in Seattle: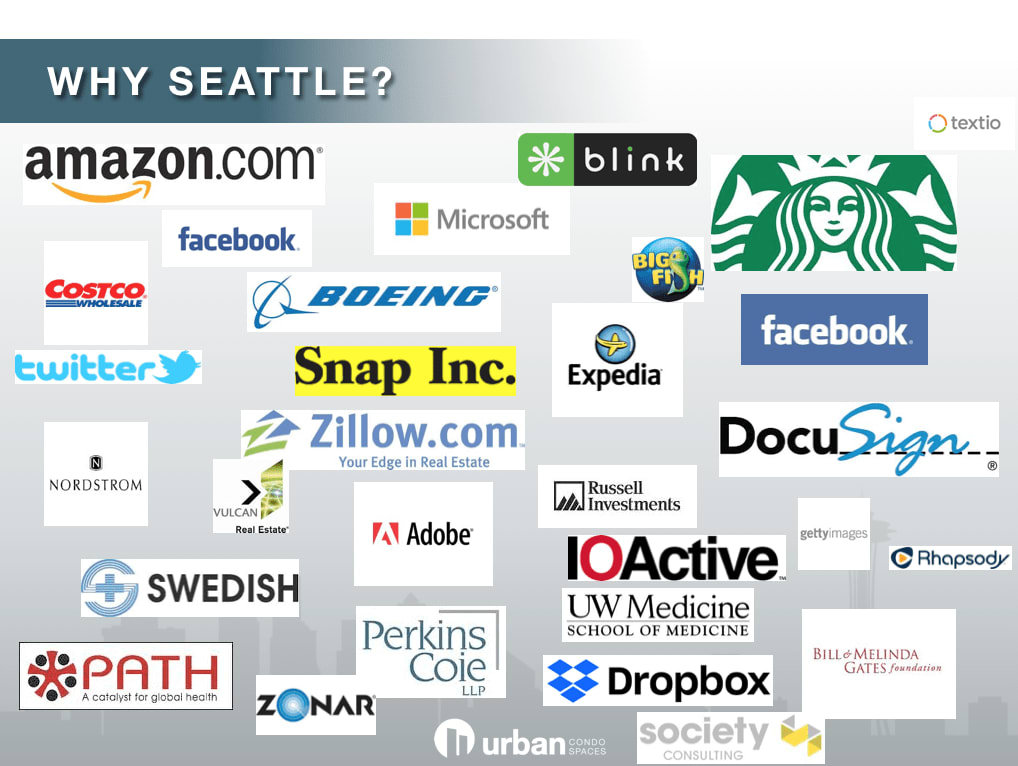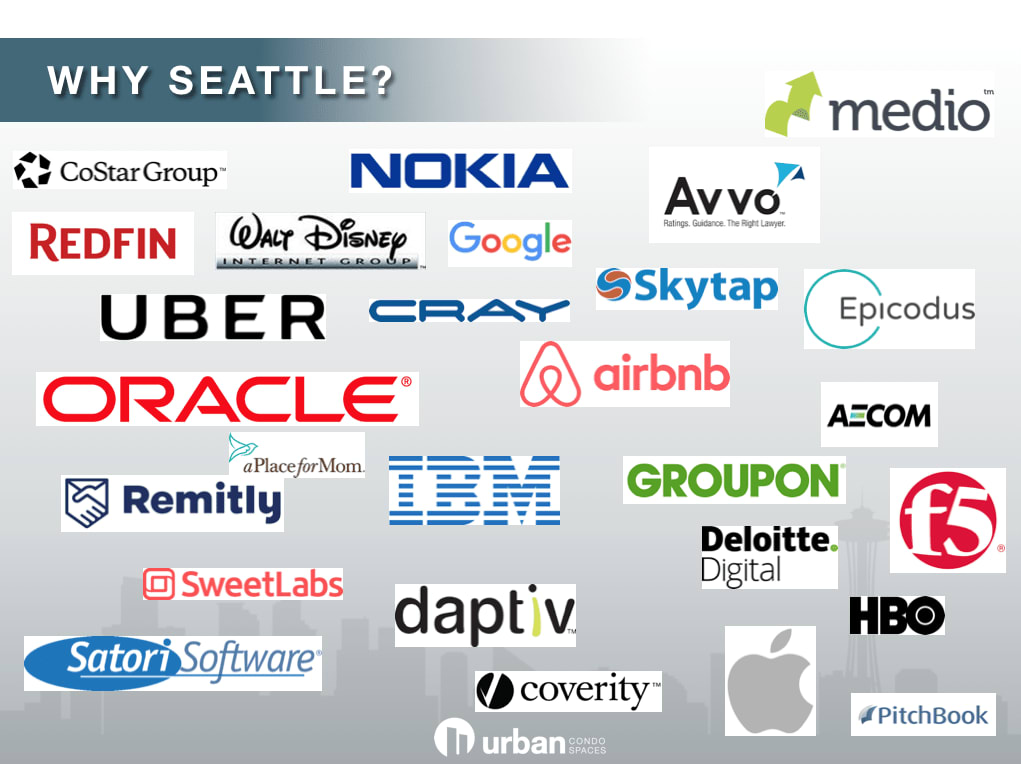 Have questions? Get in touch. We have recently built a 50 slide deck discussing Seattle growth and the impact it is having on the condo market. Want to know more? We are always happy to present the data.
*Source inman