Perfectly nestled on the backdrop of Puget Sound and the magnificent Mt. Rainer, Seattle has one of the fastest-growing real estate markets in the country. The local real estate market has been on an upward scale for a while, and last year the
median sales price saw a 13% increase
.
Seattle has consistently ranked among the
best places to live
in the U.S., boasting high scores in quality of life, environmental friendliness, and access to amenities. If you want to move to Seattle, here's a guide to some of the best neighborhoods where you may want to own a home.
Explore the best neighborhoods in Seattle
Queen Anne
Queen Anne is a great neighborhood for those with a family looking to settle down. The views from Kerry Park are some of the best in Seattle, and there are plenty of luscious parks and recreational areas throughout Queen Anne.
Queen Anne's restaurants are creative and delicious, with places like
La Medusa
featuring exquisite Italian cuisine. Make your reservations early, as this eatery is a popular spot for tourists and locals alike.
If you're in the mood for seafood, swing by the
Bait Shop
for some light fare and tasty craft beer.
Rhein Haus
is a great choice for those who enjoy delicious German delicacies. For a more casual option, head to
Serious Pie
and share a slice of pizza with the family. In the morning, stop by
Caffe Ladro
, a refreshing hangout spot where locals enjoy sipping on a delicious cup of coffee while spending time with friends and family.

Magnolia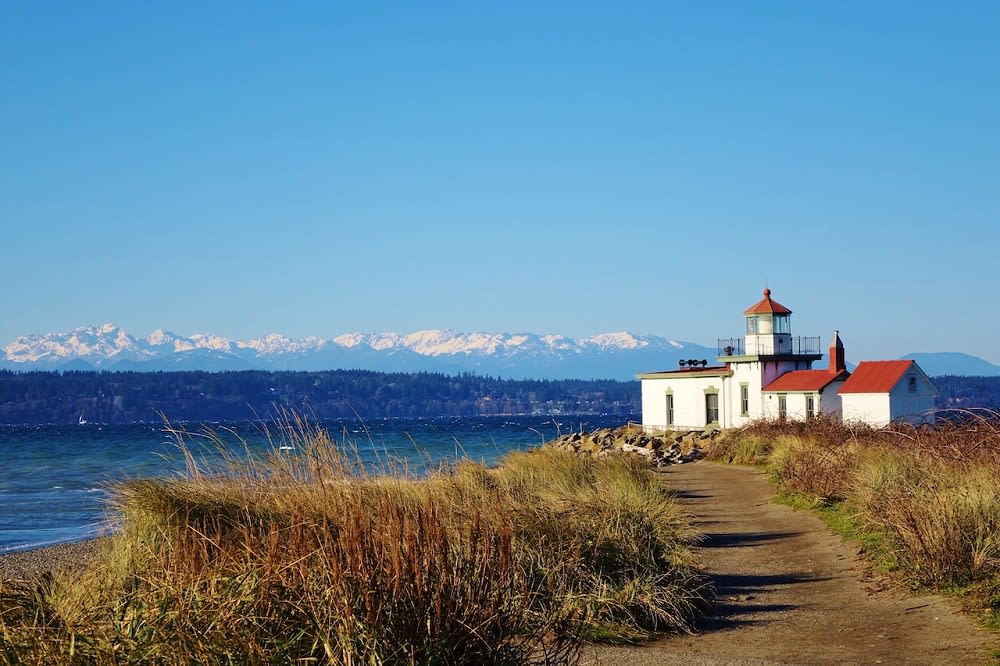 Magnolia is a great place to live, especially for those looking for a small-town feel. How many neighborhoods boast pleasant weather, beautiful views, and numerous parks? Magnolia allows residents to feel like they're living in the middle of nature while still being close to the city.

While Magnolia may not be right next to the water like other Seattle neighborhoods, it does have access via bridges or ferries across Puget Sound, so you can still enjoy the view from your backyard when you want to take in some fresh air. Some of the best views in Magnolia include:
Magnolia Park: When people think of Magnolia, they usually picture Magnolia Park. This park features a lovely expanse of greenery surrounded by trees and the second-largest urban forest in the U.S.

Discovery Park: With miles of trails and breathtaking views from every angle, this park has everything an outdoor enthusiast could want.

Magnolia Village:

This is a quaint shopping district just south of downtown Seattle. Magnolia Village features food trucks galore and fantastic restaurants like

Barnacle Bar & Grill

and

Counterbalance Brewing Company

. Locals love Magnolia Village because of its numerous shopping options and welcoming atmosphere.

Puget Sound: You can't go wrong taking your pup on a walk along the waterside path that winds through Magnolia Town Center Park. This is one of the best dog parks in America. You can also look toward Alki Beach at West Point Lighthouse State Park for a stunning and picturesque view.
The median home price in this area is $1.85 million, making it one of the most expensive neighborhoods in Washington State. With all the remarkable scenery and opportunities for adventure, it's easy to see why locals adore this neighborhood.

Madison Park
Another quiet neighborhood in Seattle with a small-town feel is Madison Park. This neighborhood stands out from the rest with its historic homes featuring a distinctive blend of architectural styles. From Victorian mansions with large porches to Tudor-style homes with tall chimneys and stone walls, Madison Park offers a housing type for all buyers.
If you're looking for more space than one house can provide, luxury duplexes and apartments are available. These are perfect for multiple families who want to live near each other in high-end residential homes but not under one roof.
Many of the homes in Madison Park were built from 1920 to 1930, most of which have been preserved to maintain their beautiful structural integrity. Most homes were constructed by one family-owned company called the Loring Company. This company built most properties on the east side of Madison Park and sold many houses that weren't originally theirs.
Other builders constructed elegant buildings in Madison Park during this period, including two rare Tudor Revival styles: one known as "The Burleigh" (currently located at 5726 NE 27th Ave) and another known as "The Geraldine" (presently located at 5708 NE 24th Ave).
Many people choose to live here because of the neighborhood's proximity to Lake Washington. The water is so close that many residents have docks on their property and can easily walk out to view the shimmering water from their decks or patios.
The neighborhood is relatively small and quiet, with only about 7,000 residents, but there are plenty of nearby amenities if you want more excitement. The UW campus is just two miles from Madison Park, and downtown Seattle is only a short drive away.
Madison Park may be an excellent choice for families who want easy access to green space without dealing with daily traffic jams. This neighborhood is conveniently situated next door to
Seward Park
— one of the largest parks in Washington state.

Capitol Hill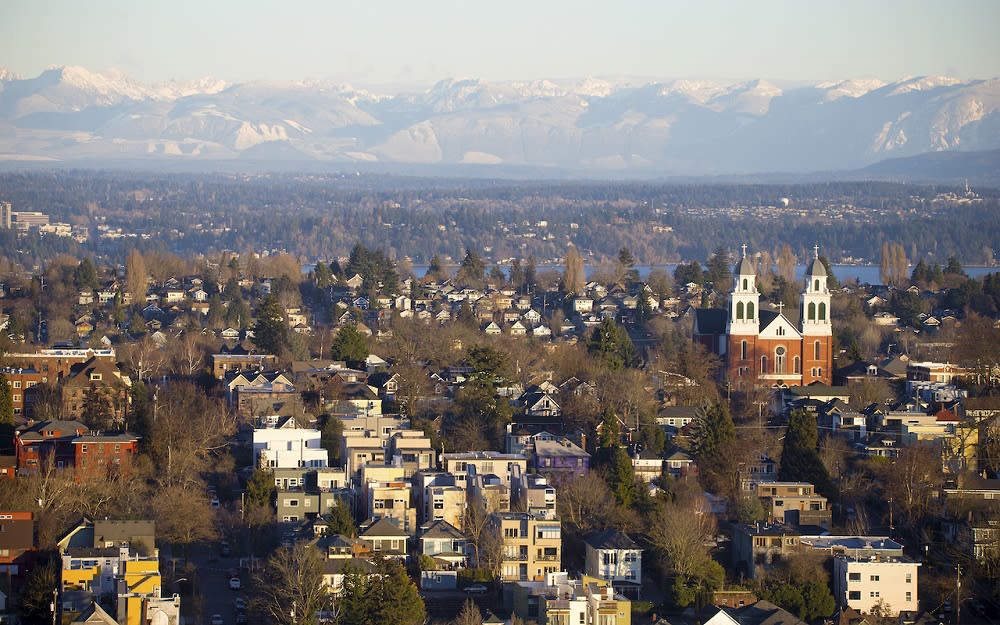 Capitol Hill is a vibrant neighborhood located just west of downtown Seattle, known for its nightlife, music, arts scene, and young adult population. It's also one of the most densely populated neighborhoods in Seattle. Nearly 12% of residents are between the ages of 18 and 34, which is the highest percentage of that age group in Washington State.
Capitol Hill attracts an eclectic mix that includes young families and professionals who want to live near downtown without paying condo prices. Although it does not feature waterfront locations or views of Puget Sound like other neighborhoods, this urban oasis feels like home thanks to its walkable streets lined with shops and restaurants galore.
Some of the best restaurants you may want to check out include
Taneda
, which offers diners an intimate Sushi experience. The restaurant is located inside Capitol Hill's Broadway Alley — it's an easy find, even if you are new to the neighborhood.

Edmonds
Located in the northern part of Seattle, Edmonds is a friendly neighborhood close to nature and the water. If you enjoy spending time outdoors or want to be close to your neighbors, consider living in Edmonds. This neighborhood offers its residents a variety of local parks, including Edmonds Community Park and Granite Falls Park near downtown Edmonds.

In addition to being surrounded by greenery, it's also easy to access many popular places, such as Ballard, without wasting too much time driving around on busy streets.

If shopping is one of your favorite hobbies or passions, you will enjoy the multitude of shopping plazas scattered throughout the downtown area. Shoppers can enjoy lavish clothing stores, unique antique shops, delicious natural markets, and local breweries.
Seattle is a haven for luxury real estate
The lush green environment, splendid views of Mt. Rainier and Puget Sound, and access to world-class amenities make Seattle an ideal place to live. If you prefer city life, downtown Seattle has all the entertainment you need in one package. The city has everything from world-class museums to a vibrant coffee culture and eclectic antique shops.

When you are ready to make a move on the Seattle real estate scene, get in touch with expert real estate broker Jeff Reynolds. Jeff is one of Seattle's top brokers and understands the luxury market, allowing you to find the home of your dreams in the perfect neighborhood.