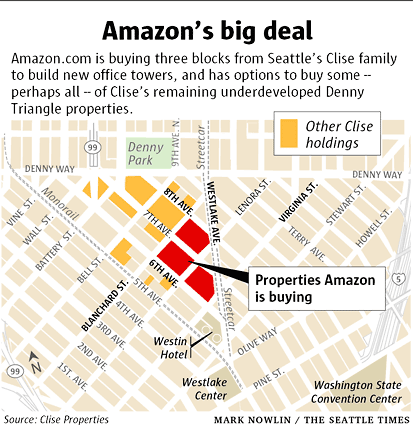 News just broke
through the Seattle Times (Eric Pryne) on a groundbreaking real estate purchase in the Denny Triangle. According to the article, Amazon is under contract with Clise Properties to purchase 3 blocks of property along Westlake that will soon become new office space for the local technology giant. Many details have yet to emerge, but in terms of real estate, this news is a market mover. Each block will be home to 1 million square feet of office space. For Seattle condo owners, this should be music to your ears. Imagine the impact on property values. For buyers, now is the time to take advantage. With an already limited inventory, purchasing a unit in the downtown core will be more expensive by the day. I would expect a large influx of investor demand as the development of the property takes place.
This could be a major catalyst for improvements to the city as well. Especially in transportation and entertainment. All in all, this is incredible news for all Seattleites and our local economy. More to come tomorrow in regards to the impact on some of our condo buildings and how their views will change.
A big thanks to one of our favorite clients for sending us the article just after it broke.