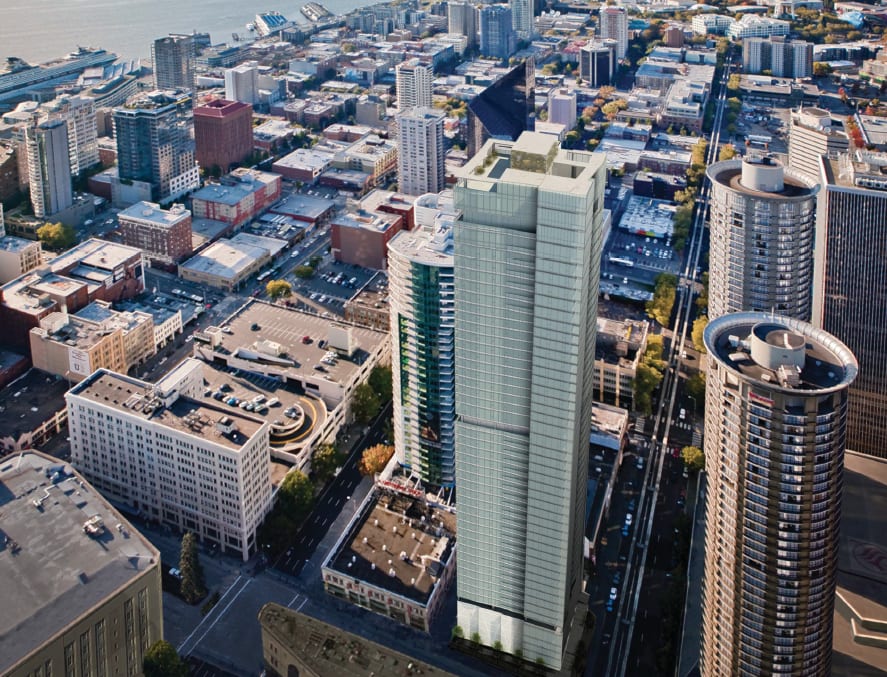 One project we have been covering for a multitude of reasons is releasing its newest renderings ahead of the December 15th design review. First referred to as Altitude Sky Tower, now Altitude Hotel and Residences is starting to take shape. The plan calls for 284 hotel rooms and 223 residential units on 50 stories of the newly planned development. Early on, we anticipated that the project may feature condos – at this point its too early and the developer has yet to announce their latest plans.
Reading through the design proposal (courtesy of MG2 architects and Stanford), we are learning more about the design and the developers intention. For example, the proposal speaks to the inspiration of the building:
"Acknowledging that this building is the first Belltown building people encounter walking west on Stewart and walking north on 5th Avenue is crucial to the design development"

"this design uses angles to create more effective and dynamic "Gateway" entry into Belltown".
Among many of its design elements, the project is trying to incorporate art lofts visible from the Monorail and an incredible rooftop bar to take in views from the 50th floor.
It is also important to note that one of Seattle's recent condo towers will be greatly impacted. We've covered this ad nauseam but we feel its important to inform both owners and prospective buyers. Here is a look at 60-74 feet that may be the total distance from Altitude and the existing Escala condominiums.
This is in addition to 1933 5th Ave that will be built next to the Avis structure seen below.